J Carr and Son was founded in 1909 by Joseph Carr. The business started life at 70 Bargate End, Boston , Lincolnshire as small ironmongers. Once established, the shop prospered with neighbouring properties soon being purchased to enlarge the premises. Joseph was a cabinet maker and joiner by profession, and was able to use his skills to diversify into undertaking, picture framing, glazing (including motor vehicles) and coach building.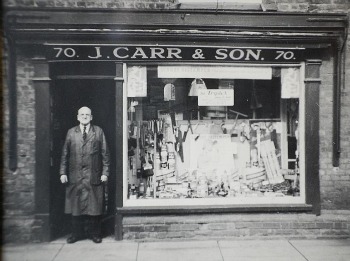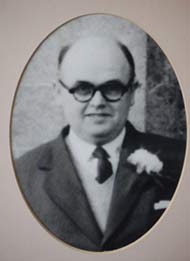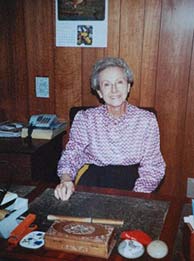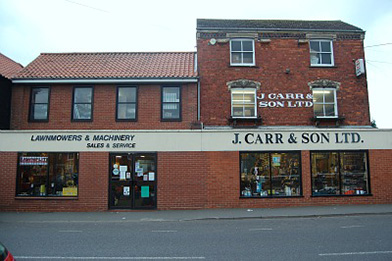 The business was later joined by Joseph's children, Sidney and Doris (pictured above) who both remained in the business up to their deaths.
Sidney's real love was the undertaking and glazing side of the business. He was renowned for being the best free hand glass cutter in the area. His mischievous boast was that he was the best boxer in town, referring to his undertaking skills.
Doris, known affectionately at work as Aunt Doris or 'AD' looked after the book keeping. Aunt Doris never married and devote her life to the family business, with a three year break to serve during World War II. She was a very caring and private person, but not someone to cross.
In 1954 Sidney's son David joined the business. David, after many years as M.D. still works in the business today. He takes great pleasure in telling people he is now retired with no responsibility, but he has a very much hand on role. His early memories of working in the business are of very long and unsociable hours, often being called out on Christmas Day on undertaking duties.
The 1960's saw the acquisition of new properties round the corner at 10 and 11 Horncastle Road, Boston. Sidney also officially retired and the undertaking side of the business was sold. This business still remains today as Carr Funeral Service.
David's interest was very much in the tools and ironmongery side of the business. The firm started selling power tools and small wood working machines, as well as extending its range of tools and ironmongery. David also experimented in the selling of various lawnmower models. Sales took off and soon encouraged the servicing of lawnmowers, with spare parts and blade sharpenings also being offered. Growth in this area led to the re-development of the Horncastle Road site into a lawnmower sales and service shop. This was followed by a new suite of offices being built at Bargate End. At this point the business was very much a two site operation with the tools and ironmongery remaining at Bargate End.
The 1980's saw David's three children, Matthew, Catherine and Charles join the business. This decade proved to be a turbulent one. Sidney died with Matthew taking over his work. At this point the two never worked together, with Sidney being taken ill on the Friday and Matthew starting work on the Monday. It was as though Sidney was waiting for relief.
David was also taken ill with cancer, which was followed by two years of intensive treatment. He continued working during this time and eventually made a full recovery. This was a very uncertain time, but the family and staff pulled together keeping the business in profit.
Charles went to work in the mower department eventually taking over the management. Catherine worked along side Aunt Doris in the office eventually becoming company secretary. Matthew's role was in the tool and ironmongery shop finally taking over as department manager.
This decade saw the growth of the diy supermarkets, builders' merchants and mail order companies. Increased competition began to affect the tool and ironmongery shop and business became much harder. The mower shop faired much better, going from strength to strength. During this time Brian Williamson joined the mower department, where he still works today on a part time basis after his retirement. David as M.D. would move from shop to shop frequently during the day. His energy and attention being focussed on the mower department.
The 1990's saw Aunt Doris take more of a back seat roll, with Catherine taking more responsibility. The office staff was joined by Teresa Woodcock who still works for the company today. Ron Matson joined the tool department, where he still works two days a week, even after his retirement
Communication,economics and the logistics of running two separate shops in close proximity eventually led to the tool shop vacating Bargate End and moving into the mower shop. This proved to be a good move in a hardening business environment for the tool department making the whole operation more compact and efficient. The Bargate End site is still in possession of the company today, rented out as offices.
The end of the millennium saw David officially retire, with Charles taking over as managing director. Neither retirement or illness alterered David's working pattern which even today is full time.The new century presented J. Carr and Son Ltd with yet more change, and new opportunities.The general manager Doug Foster, known to most as Mr Foster or Mr F. retired after 20 years of service. In 2003, Aunt Doris died a year after she finally finished working for the company. David also had a minor heart attack, which again did not lesson his appetite for work.
The previous few years had been a holding exercise, but the advancement of the internet provided J Carr and Son a whole new business opportunity. Spares, repairs and service were very much now at the heart of the business. Matthew realised that there was a nationwide demand for power tool spares and lawnmower spares, and that the internet was the best way of providing this. The name www.powertoolspares.co.uk was aquired, and the services of web design company TJS Lincolnshire were employed to help create the site.
The company was joined, by Graham Johnson and Alex Railton to run the new internet department, both being under twenty when they joined, helped put a new purpose and vigour into the business.
Today J Carr and Son is very much a different business from what it was six years ago. The internet has really showed what is possible on many levels. New direction has focussed everyone on where the company goes from here. Even as this is being written the second generation re-vamp of www.powertoolspares.co.uk is just about to be launched. The internet department has also recently been joined with another new young member of staff, Chris Johnson.
For the future J.Carr and Son Ltd has plans for another new website selling hand tools, power tools and lawn mowers.Although the current economic climate is gloomy, the future is positive and full of new business to be had. All that has to be done is for the Carr family to get on with it.
Would Joseph, Sidney and Aunt Doris approve? The answer is definitely.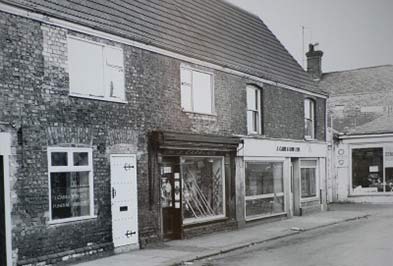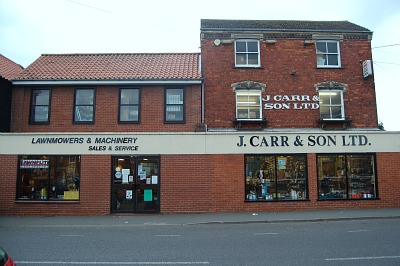 Above the shop pictured in 1970 (left) and today (right)