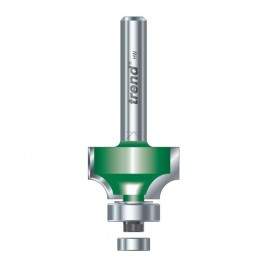 Trend C076X1/4TC
Rounding over 6.3mm radius x 12.7mm cut - C076X1/4TC
Self guided rounding over cutter with 6.3mm radius X 25.4mm diameter X 12.7mm cut. Does not require a side fence, supplied with two bearings.
D=1 inch D=25.4 mm C=1/2 inch C=12.7 mm B=9.5 mm B2=12.7 mm R=6.3 mm R=1/4 inch Shank Diameter=1/4 inch Includes:
Ask us a question
Q&A's
Question & answer's...
There has been no questions asked about this product. Ask new questions in the form below
Can't find the question you're looking for?
Ask your own using the form below.