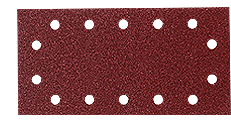 Makita P-33009
Sanding Sheets - P-33009
14 hole, 40 grit, clamping system orbital sanding sheets, for wood & metal.
Ask us a question
Q&A's
Question & answer's...
See below all the questions our customers have asked about this product.
Hiabout: Sand paper for BOSCH GSS 280 AE.I am struggling to find sandpaper in Norway.Do yo send to Norway?I would like a selection, not only 40 grid. What can you offer?Thank YouTerje HaugnesYttervikveien 15N - 6523 FREINORWAY
Bosch GSS 280 AE Sanding Sheets
Yes we ship to Norway, please see available sanding sheets for this model using the link above. You can add these to your shopping cart and checkout online.
Can't find the question you're looking for?
Ask your own using the form below.